~Renovia's Brewery Guide~
​
FEATURES:
Becoming drunk (You party animal, you)
Slurred text, Unwillingly staggering, and vomiting (for those extreme party animals)
Hangovers
Becoming the best diddly dang Brewer out there!



What is brewing? How can I benefit?


Brewing is an extremely fun way to have fun, whether it be with friends or by yourself! This is especially true when figuring out what potion effects each brew gives! It is just like potion creation, but it involves drunkenness, slurred speech, and the partial inability to control your character. Brews can also be extremely helpful (ie. Speed buff, Jump Boost, Haste)!

Although it is highly dependent on the recipe, Brewing may be difficult and/or time consuming. Some recipes require little-to-no error, whereas others may allow a higher margin of such. When working with recipes that require extreme precision, any step that is deficient may lead to negative side effects (ie. Hangovers). Some brews may not require aging and/or distilling. If a step is not listed within the recipe, you do not need it to create the brew!




Step One: Fermenting
Place a cauldron over a fire. [click here for example]
Fill the cauldron with water
Add ingredients by right-clicking the side of the cauldron with the ingredient. CAUTION: Clicking the water may place the block on the cauldron!
Wait for the ingredients to finish fermenting. Right-Clicking the cauldron with a clock will allow you to see how long your ingredients have been fermenting.
Right-click the cauldron with 3x glass bottles.
Step Two: Distilling
(May not be required in certain brews!)
Place 1x glowstone dust into the top slot of the brewing stand. This is the filter.
The glowstone dust will not be consumed. [click here for example]
Place the fermented brews into the bottom three slots of the brewing stand.
Remove fermented brews when distilling is complete.
Step Three: Aging
(May not be required in certain brews!)
A barrel is required for aging. They can be created in two different ways. You can learn how to make these at
/warp tutorial!
Place the bottles into the barrel to begin the aging process.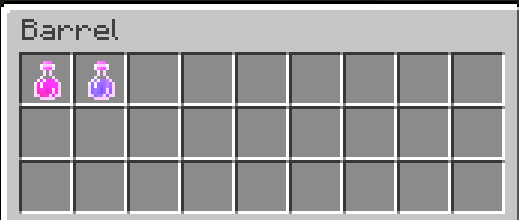 The type of wood used may alter the quality of the aged brew (this is dependent upon the recipe!) Do not destroy the barrel whilst the aging process is occurring! The barrel will start leaking. If you break the spigot, everything will spill out!
Step Four: Drinking

When the player consumes the brew, the amount of alcohol inside will begin to impact the player. This may have different effects, depending on the brew's quality. (/brew info will show the Quality and the percentage of drunkenness)

After drinking a brew, you may experience negative side effects due to your level of drunkenness. Whether it be the inability to control your character as it stumbles around, or effects such as Blindness or Confusion. Your chat may be altered as well, rendering you becoming harder to understand. If a brew contains high alcohol content, poisonous effects may occur. Additionally, if you drink too much, you may begin to vomit.
Step Five: Sobering Up

It takes a while to become sober after drinking. Your percentage of drunkenness decreases -- albeit slowly. This can be decreased faster by consuming milk or bread.

If the alcohol consumed was poor quality, you may face a hangover.
Important Information:
Days refer to minecraft days (20 IRL minutes). They also appear as years on the barrel (ie. 3 days of age time = 60 minutes = "Three Years Barrel Aged")
Each brew, even from the same batch, is different. This means you unfortunately cannot make a brewing shop with Chestshops.
If a step is missing in the recipe, it is not required (ie. No distilling listed = Distilling isn't required)
Refrain from having something in your offhand while you brew, it may be inserted into the cauldron.
The higher the level of difficulty listed for the brew, the more precise you must be within the entire recipe, meaning everything must be exact.
All information is taken from the Brewery plugin wiki, we did not create the plugin and don't take credit for it.
Click here for more information.
If you have any bug reports or suggestions, please send a message to Csoi on discord, or /mail send CsoiSauce in-game.
​